Celebrity Baby Scoop: Brooke Burke-Charvet launches Caelum fitness line
Well, they divorced and Heidi was supposedly getting down with her bodyguard. She will NOT always love you Sealsorry. 6. Kristen and Robert Twi hard to calm down! Fans of the "Twilight" saga lost their minds when Us Weekly released amazing photos of Kristen making out in public with her "Snow White and the Huntsman" director Rupert Sanders. She's an idiot. But Robert Pattinson took her back, so he's an idiot. But finally in 2013, Rob came to his senses and dumped Kristen and her perma-sourpuss face. 5. Sandra and Jesse Why Sandra married Jesse James is a modern-day enigma. During her Oscar acceptance speech, she cried, thanking Jesse. A few weeks later it was revealed that Jesse was having an affair with a woman who had a FOREHEAD TATTOO. Bombshell McGeenever forget.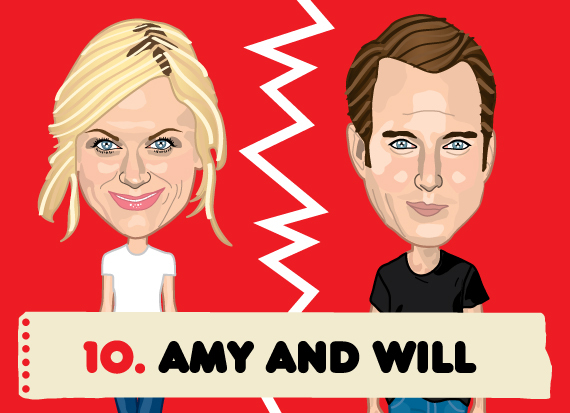 Keeping up with the tradition of weeks past, Kim Kardashian and her family made repeated headlines, as did Miley Cyrus and Justin Bieber. Michael Jackson's family joined them with breaking news, as did Mia Farrow, Emma Watson, Amanda Bynes, Angelina Jolie and the long-forgotten Meg Ryan. Let's recap. More than four years after Michael Jackson's death, a jury rejected the notion that the promoter of his ill-fated comeback concerts was linked to his demise , thus ending a long-running case that offered an unprecedented look into the singer's addiction struggles, concert preparations and his role as a parent. Katherine Jackson's attorneys said they were disappointed by the verdict and would consider further legal options. Mia Farrow dropped a paternity bombshell this week when, in an interview in Vanity Fair, she suggested her son Ronan might be Frank Sinatra's boy, and not Woody Allen's. Ronan, 25, jokingly reacted to the breaking headlines by tweeting: "Listen, we're all *possibly* Frank Sinatra's son." Kim Kardashian spent a few days in Paris for Fashion week with boyfriend Kanye West. The reality star donned several fashionable (and revealing ) outfits, and then hurried back to reunite with her adorable baby North — whose photo she posted on Instagram for the world to coo over. Kim's younger sister Khloe also made headlines this week, both for looking fantastic and for meeting up with her seemingly estranged husband, Lamar Odom , in the midst of drug abuse and divorce allegations. Odom came over to Khloe's house and a photographer on the scene said, "When Lamar left the house, he was kind of out of it. He didn't look happy and he looked really tired, like he hadn't slept all night." Amanda Bynes' mother, Lynn, spoke out for the first time this week since her daughter was admitted to a psychiatric facility. "I would really like everyone out there to know that almost 99 percent of the things written about my daughter in various media outlets are false or misleading," she said. "Unless it's a statement issued by our family attorney, Tamar Arminak, please take everything you read about Amanda with a grain of salt." In other news, Justin Bieber was being his ridiculous self as photos of him being carried on his bodyguards' shoulders up the Great Wall of China surfaced; Miley Cyrus posed for Terry Richardson wearing — shocker — next to nothing and sticking her tongue out.
Celebrity Week In Review: Michael Jackson Verdict, Mia Farrow Bombshell, Kimye In Paris & More
I'm learning to manage the chaos. I'm a chauffeur, a referee, and a concierge…and the bank (laughs)." Q: Is Halloween a big holiday in your family? Do the kids have costumes picked out already? A: "Yes, we love Halloween i it is action packed with my brood of six. We're in the process of decorating our house right now. Shaya wants to be a ninja, Rain wants to be a vampire, Neriah will be Minnie Mouse and Sierra has a handmade Sponge Bob costume. And, of course, it'll all probably change the day before." Q: Describe a typical day in your household. What time does your day start and end? A: "Never a typical day. (At) 6:30 a.m., the alarm goes off and I start waking up the kids. First things first: coffee! I make lunches, breakfast to go and we're out the door by 7:10 a.m.